Stroll Handle Extension Bar Rubber Tube
Model NO.: Stroll Handle Extension Bar

Raw Materials: Natural Rubber, Pad

Medium: Pure Gum Rubber Sheet and Fabric

Performance: Insulating Rubber Slab

Trademark: FYHH

Transport Package: Packing

Specification: Customized

Origin: China

HS Code: 4002119000

Model NO.: Stroll Handle Extension Bar

Raw Materials: Natural Rubber, Pad

Medium: Pure Gum Rubber Sheet and Fabric

Performance: Insulating Rubber Slab

Trademark: FYHH

Transport Package: Packing

Specification: Customized

Origin: China

HS Code: 4002119000

NBR foam tube features:

- Anti-slip surface make more safety

- Soft and comfortable handle bar grip

- Corrects your hand position so your median nerve isn't absorbing unnecessary pressure (a leading cause of carpal tunnel syndrome)

- Suitable for all kinds of straight grips

- Eeasy to install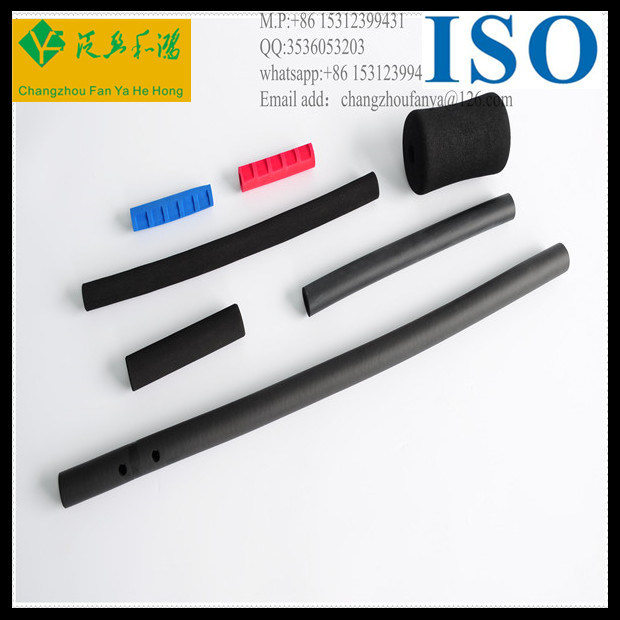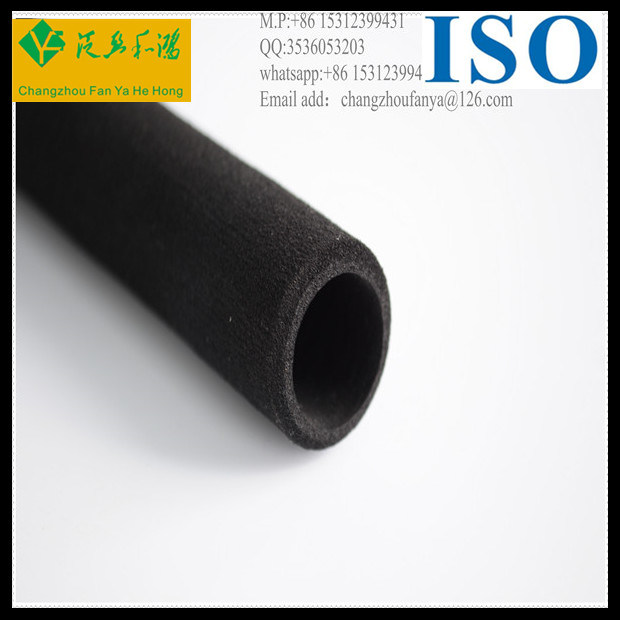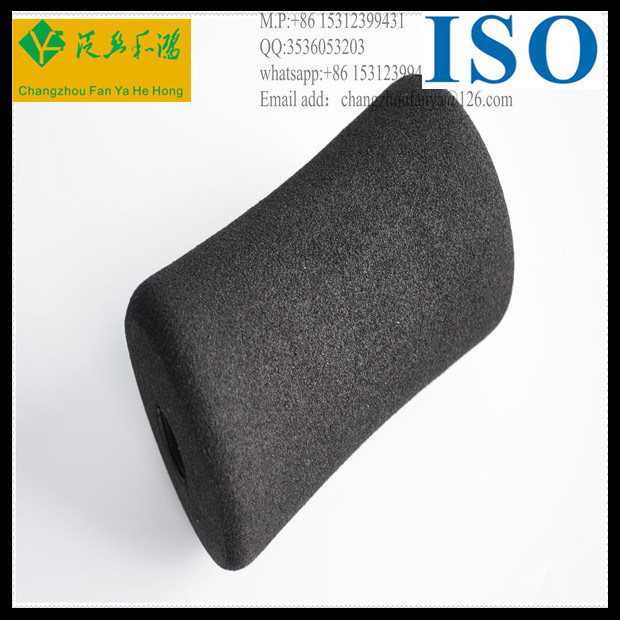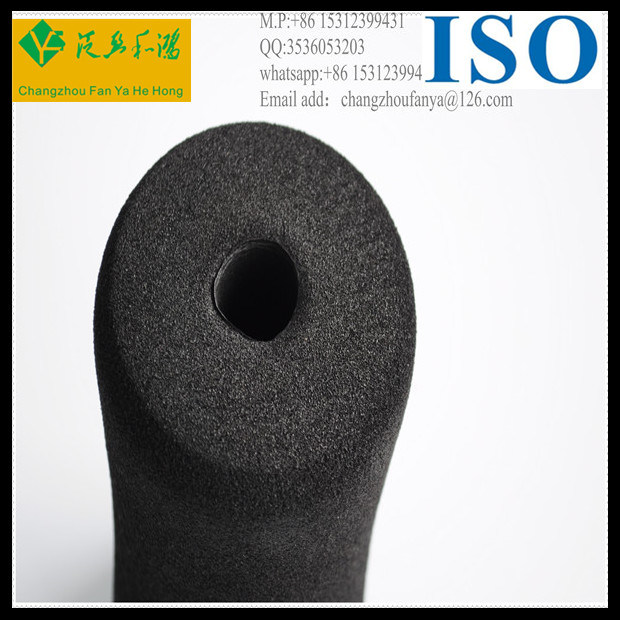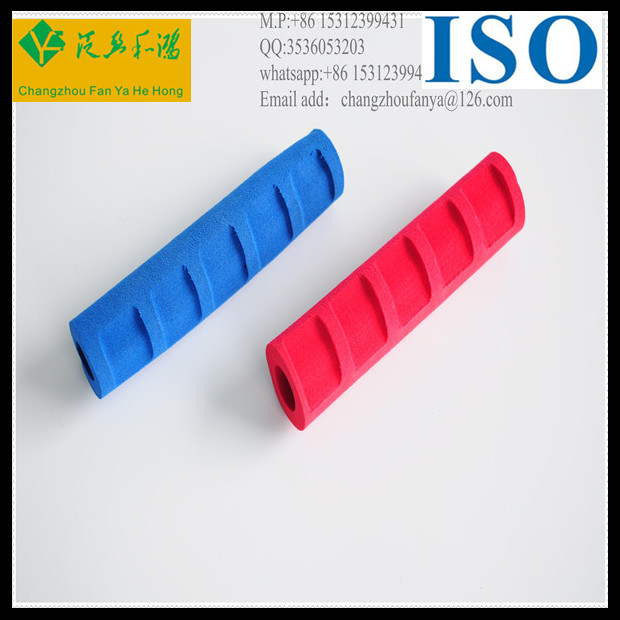 | | | | | |
| --- | --- | --- | --- | --- |
| NO. | color | diameter(mm) | out diameter(mm) | length(mm) |
| 1 | black  | 15 | 29 | 120 |
| 2 | black  | 23 | 33 | 110 |
| 3 | black  | 22 | 32 | 110 |
| 4 | blue | 14 | 26 | 110 |
| 5 | red  | 14 | 26 | 110 |
| 6 | green  | 14 | 26 | 110 |
| 7 | black  | 10 | 30 | 110 |
| 8 | blue+black | 10 | 30 | 110 |
| 9 | red+black | 10 | 30 | 110 |
| 10 | green+black | 10 | 30 | 110 |
| 11 | yellow+black | 10 | 30 | 110 |
Protection foam tube applications:Â 

- Baby Car Hand grip.

- Heat insulation.

- Protect wires.

- Moving equipment used in racket handle, cushion, shock absorbers, and other sports accessories etc.

1). Water and fire resistant.Used in sealing air,water,chemicals in machine from dust or oil

2). Tempareture Range: -40ºC-230ºC

3). Soft,flexible,glossy,non-toxic

 

2. Silicone Advantage

1). Non-toxic, odorless, transparent, flame retardant, non-yellowing

2). Soft, flexible, kink resistance to deformation

3). Not cracking, durable, resistant to high and cold temperature

4). High tear strength and superior electrical performance

5). Various sizes, colors, durometer could be available

1). Color: Transparent or can be customized

2). Hardness: 60~80 Shore A

3). Standard: RoHS, FDA, LFGB, Medical

Packaging & Shipping

Packaging 

1. Packed in Roll ;

2. Can be cutted as you required.

 

Characteristics:Â 

        Water resistance: closed cell structure, non-absorbent, moisture-proof, water-resistant performance. 

        Decay resistance: resistant to water, grease, acid, alkali and other chemicals, corrosion, anti-bacterial, non-toxic, tasteless, non-polluting. 

        Processing: hot and easy to cut, glue, paste, etc.. 

        Anti-Shock: Back to the flexibility and high tensile strength, toughness, and has a good earthquake / buffer performance. 

        Insulation: The insulation, thermal insulation and cold temperature performance, resistance to cold and exposure. 

        Noise: The confined cell, the noise effect.

Applications:

        Cars, air conditioners, refrigerators, freezers, home appliances, engineering, refrigeration and cold storage and freezers, etc.; skates, sports shoes, lining materials, sport insoles, bags back pad, surfboard, kneeling pad;High-end products, Foam tape substrate;cold storage, light roofs, construction and installation, such as thermal insulation materials used in construction;Car seats, car interiors, foot pad, sun visor material; 

        Electrical appliances, precision instruments, equipment and other electronic products, such as the earthquake a wide range of cushioning packaging. Automotive electronic components, air-conditioning refrigeration parts, refrigerator insulation materials, machinery and equipment parts sealed buffer, heat-setting case, a variety of precision instruments, medical tools, measuring and lining of the packaging, sporting goods, building blocks, such as intelligence. 

Color: black, white and gray as the ordinary colors.

 

For more details, pls contact us free at any time.

we provides customers with professional foam materials and components processing:

(1) Cold pressing/hot pressing forming of luggage/shoe material/sports goods pad/safety gear

(2) Die-cut shape/plastic molding of foam packing lining and shim for wrapping.

(3) Striping, knurling, cutting processing of foam:

(4) Glue(oily glue) acrylic adhesive/hot melt adhesive/water-based adhesives used on foam

(5)EVA/PE/PU foam composite fabric processing

(6) All kinds of car mats and car upholstery, PE/PVC insulated pipe for air conditioners.

Our main production equipment: moulding foaming machine, extrusion foaming machine, cold forming machine, hot-embossing machine, punching machine, splitting machine, slitting machine, coining mill, hot melt adhesive/oily glue coating machine, water-based adhesive/oily glue compound machine, flame compound machine, sewing machine, etc.

Material certification: ROHS certification

Our goal is to provide customers with good products and service. We continuously develop new products, persist in the marketing strategy of rapid response to changing circumstances and service upmost, set up well-established quality management system and cost control system, try our best to meet customers' needs and expectations with excellent products and service.

Our foam products have been widely used in all walks of life both at home and abroad, the products are exported to America, United Kingdom, Australia, Japan, India, Middle East and south-east Asia, etc. We enjoy good feedback from customers both at home and abroad for high quality products and fine credit standing.

FAQ

 Q1: Are you a manufacturer or trading company?

 A1:Changzhou Fan Ya He Hong Plastic Co.,Ltd  have its own factory. And Our

factory  has experience in  production of baby safety products, baby plastic

products ,Buffer products,Cushioning packaging products and Soft filter products

for more than 10 years.

Q2:What machines we have?

 A2:Our production have injection machine,lamination machine,cutting

machine,punching machine,material receiving machine,automatic blister package

machine. Â  Â Â 

Q3:What are the products quality guarantee?

 A3: Our products have already gained international approvals with ROHS 

Q4:MOQ

A4:Pls check carefully on the product's description,if the quantity can not reach

our MOQ ,pls discuss with our sales . Â  Â Â 

Q5: What is the delivery times of your company?

 A5: Normally, new customers will need 10 days after we receive the deposit and

design of products; For old customers, the delivery time is around 3 days after

deposit.

Q6:What is your price and payment terms? 

 A6:  FOB shanghai/ningbo/tianjin/guangzhou will be fine ,payment should be

discussed withe our sales . NBR foam tube features:

- Anti-slip surface make more safety

- Soft and comfortable handle bar grip

- Corrects your hand position so your median nerve isn't absorbing unnecessary pressure (a leading cause of carpal tunnel syndrome)

- Suitable for all kinds of straight grips

- Eeasy to install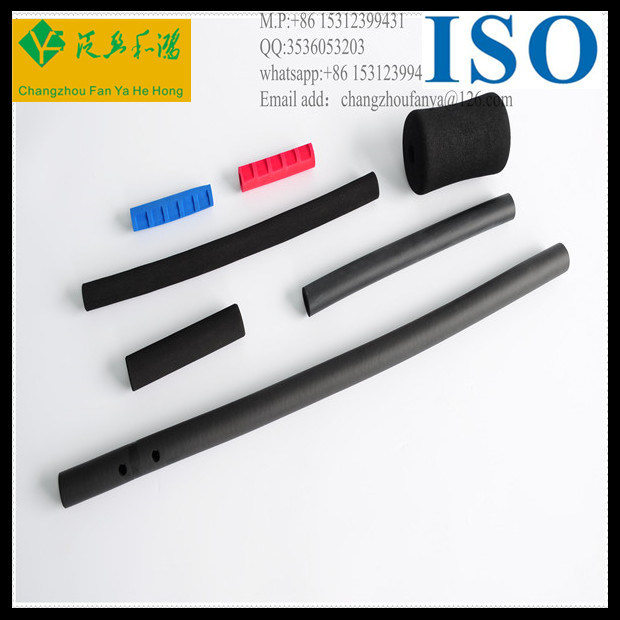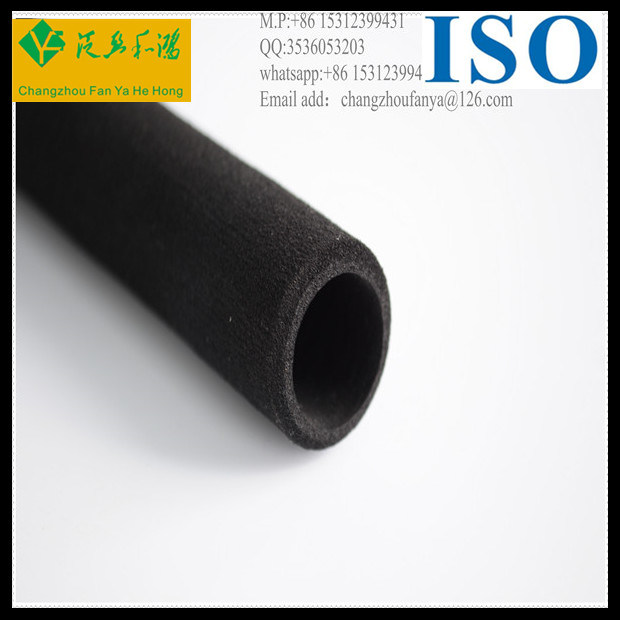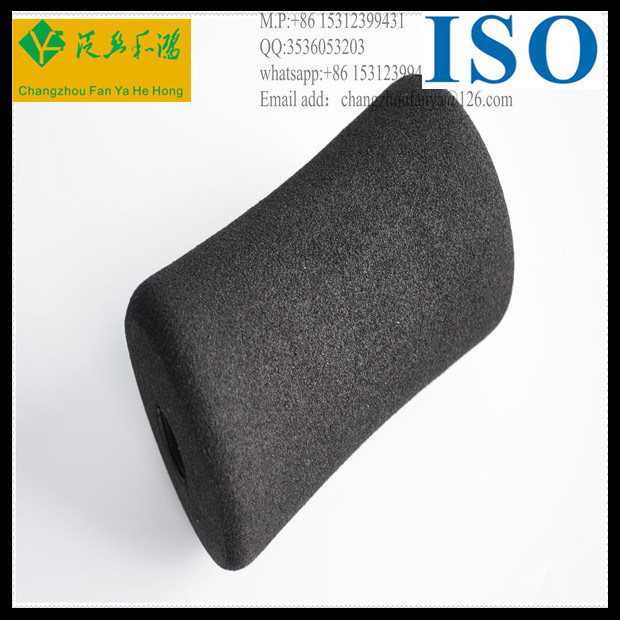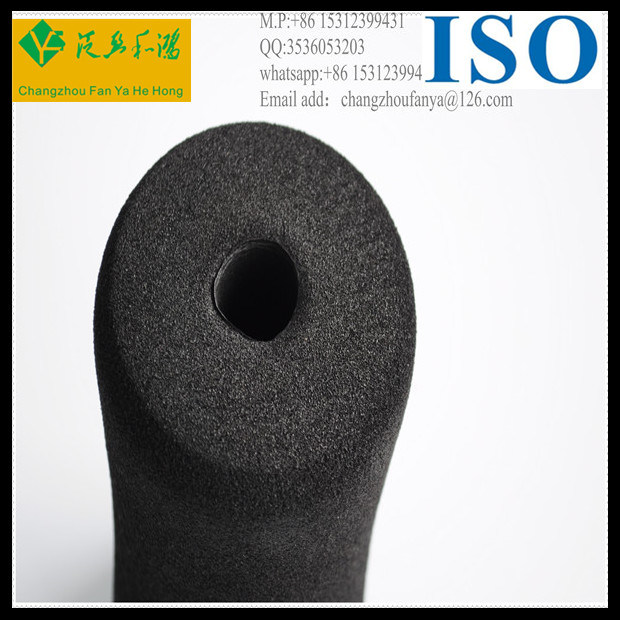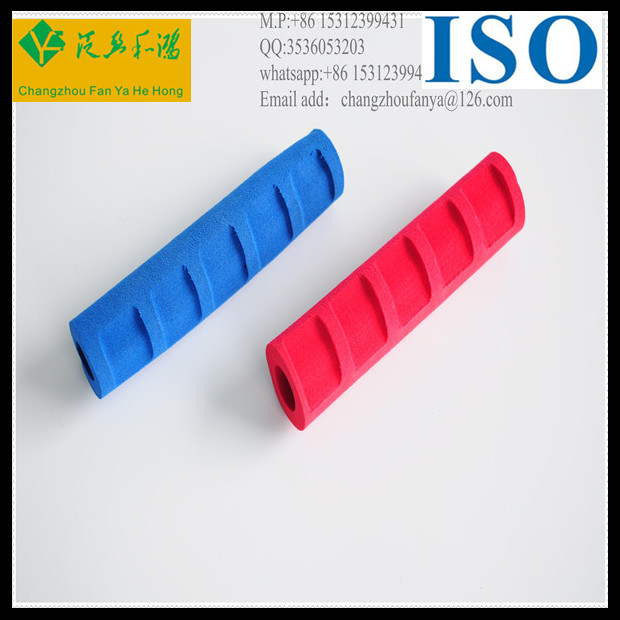 | | | | | |
| --- | --- | --- | --- | --- |
| NO. | color | diameter(mm) | out diameter(mm) | length(mm) |
| 1 | black  | 15 | 29 | 120 |
| 2 | black  | 23 | 33 | 110 |
| 3 | black  | 22 | 32 | 110 |
| 4 | blue | 14 | 26 | 110 |
| 5 | red  | 14 | 26 | 110 |
| 6 | green  | 14 | 26 | 110 |
| 7 | black  | 10 | 30 | 110 |
| 8 | blue+black | 10 | 30 | 110 |
| 9 | red+black | 10 | 30 | 110 |
| 10 | green+black | 10 | 30 | 110 |
| 11 | yellow+black | 10 | 30 | 110 |
Protection foam tube applications:Â 

- Baby Car Hand grip.

- Heat insulation.

- Protect wires.

- Moving equipment used in racket handle, cushion, shock absorbers, and other sports accessories etc.

1). Water and fire resistant.Used in sealing air,water,chemicals in machine from dust or oil

2). Tempareture Range: -40ºC-230ºC

3). Soft,flexible,glossy,non-toxic

 

2. Silicone Advantage

1). Non-toxic, odorless, transparent, flame retardant, non-yellowing

2). Soft, flexible, kink resistance to deformation

3). Not cracking, durable, resistant to high and cold temperature

4). High tear strength and superior electrical performance

5). Various sizes, colors, durometer could be available

1). Color: Transparent or can be customized

2). Hardness: 60~80 Shore A

3). Standard: RoHS, FDA, LFGB, Medical

Packaging & Shipping

Packaging 

1. Packed in Roll ;

2. Can be cutted as you required.

 

Characteristics:Â 

        Water resistance: closed cell structure, non-absorbent, moisture-proof, water-resistant performance. 

        Decay resistance: resistant to water, grease, acid, alkali and other chemicals, corrosion, anti-bacterial, non-toxic, tasteless, non-polluting. 

        Processing: hot and easy to cut, glue, paste, etc.. 

        Anti-Shock: Back to the flexibility and high tensile strength, toughness, and has a good earthquake / buffer performance. 

        Insulation: The insulation, thermal insulation and cold temperature performance, resistance to cold and exposure. 

        Noise: The confined cell, the noise effect.

Applications:

        Cars, air conditioners, refrigerators, freezers, home appliances, engineering, refrigeration and cold storage and freezers, etc.; skates, sports shoes, lining materials, sport insoles, bags back pad, surfboard, kneeling pad;High-end products, Foam tape substrate;cold storage, light roofs, construction and installation, such as thermal insulation materials used in construction;Car seats, car interiors, foot pad, sun visor material; 

        Electrical appliances, precision instruments, equipment and other electronic products, such as the earthquake a wide range of cushioning packaging. Automotive electronic components, air-conditioning refrigeration parts, refrigerator insulation materials, machinery and equipment parts sealed buffer, heat-setting case, a variety of precision instruments, medical tools, measuring and lining of the packaging, sporting goods, building blocks, such as intelligence. 

Color: black, white and gray as the ordinary colors.

 

For more details, pls contact us free at any time.

we provides customers with professional foam materials and components processing:

(1) Cold pressing/hot pressing forming of luggage/shoe material/sports goods pad/safety gear

(2) Die-cut shape/plastic molding of foam packing lining and shim for wrapping.

(3) Striping, knurling, cutting processing of foam:

(4) Glue(oily glue) acrylic adhesive/hot melt adhesive/water-based adhesives used on foam

(5)EVA/PE/PU foam composite fabric processing

(6) All kinds of car mats and car upholstery, PE/PVC insulated pipe for air conditioners.

Our main production equipment: moulding foaming machine, extrusion foaming machine, cold forming machine, hot-embossing machine, punching machine, splitting machine, slitting machine, coining mill, hot melt adhesive/oily glue coating machine, water-based adhesive/oily glue compound machine, flame compound machine, sewing machine, etc.

Material certification: ROHS certification

Our goal is to provide customers with good products and service. We continuously develop new products, persist in the marketing strategy of rapid response to changing circumstances and service upmost, set up well-established quality management system and cost control system, try our best to meet customers' needs and expectations with excellent products and service.

Our foam products have been widely used in all walks of life both at home and abroad, the products are exported to America, United Kingdom, Australia, Japan, India, Middle East and south-east Asia, etc. We enjoy good feedback from customers both at home and abroad for high quality products and fine credit standing.

FAQ

 Q1: Are you a manufacturer or trading company?

 A1:Changzhou Fan Ya He Hong Plastic Co.,Ltd  have its own factory. And Our

factory  has experience in  production of baby safety products, baby plastic

products ,Buffer products,Cushioning packaging products and Soft filter products

for more than 10 years.

Q2:What machines we have?

 A2:Our production have injection machine,lamination machine,cutting

machine,punching machine,material receiving machine,automatic blister package

machine. Â  Â Â 

Q3:What are the products quality guarantee?

 A3: Our products have already gained international approvals with ROHS 

Q4:MOQ

A4:Pls check carefully on the product's description,if the quantity can not reach

our MOQ ,pls discuss with our sales . Â  Â Â 

Q5: What is the delivery times of your company?

 A5: Normally, new customers will need 10 days after we receive the deposit and

design of products; For old customers, the delivery time is around 3 days after

deposit.

Q6:What is your price and payment terms? 

 A6:  FOB shanghai/ningbo/tianjin/guangzhou will be fine ,payment should be

discussed withe our sales .

Deep hole drilling can also be used in cross-hole occasions or where the workpiece has an inclined surface, which can improve productivity for customers and reduce the processing cost of unit holes. Extend the service life of the tool.

The company has a number of imported CNC grinding machines, including 6 sets Walter CNC grinding machines, and a number of high-precision imported tool testing equipment. The tool quality is trustworthy.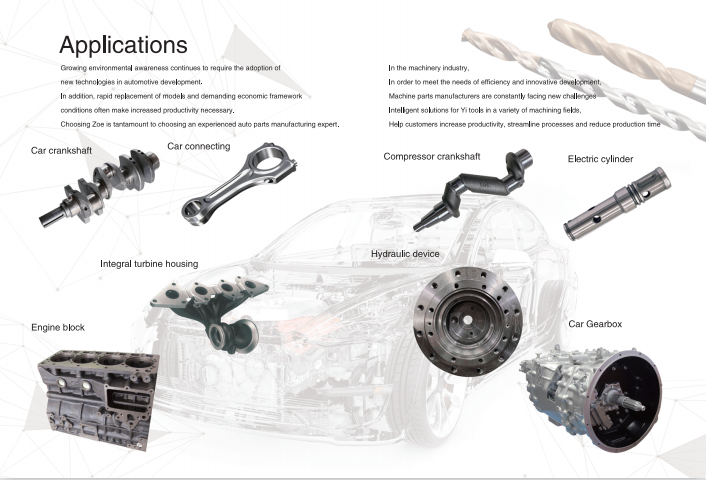 Deep Hole Twist Drill,Extra Long Drill Bits For Concrete,Long Twist Drills,Long Countersink Drill Bit

ROYI CNC TOOL TAIXING CITY CO.,LTD , https://www.royitools.com